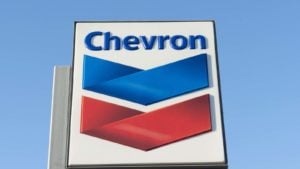 The world has rediscovered its interest in the best Warren Buffett stocks in 2022.
For the past few years, upstart technology companies were consistently the market's largest gainers. Warren Buffett and his stock-holding company, Berkshire Hathaway (NYSE:BRK-B), may have seemed a little old-fashioned.
However, the Oracle of Omaha has had the last laugh. His portfolio of relatively conservative and stable enterprises has served as a  good, defensive shelter during the current bear market. For investors wanting to add some more of the best Buffett stocks to their portfolios heading into next year, here are seven of the most compelling companies whose shares are owned by Berkshire Hathaway today.
| | | |
| --- | --- | --- |
| CVX | Chevron | $183.70 |
| DEO | Diageo | $184.11 |
| CHTR | Charter Communications | $390.11 |
| ATVI | Activision Blizzard | $73.47 |
| MCO | Moody's | $301 |
| VRSN | Verisign | $198.87 |
| V | Visa | $213.79 |
Chevron (CVX)
Warren Buffett has been an aggressive buyer of Chevron's (NYSE:CVX) shares over the past year. The rationale for these purchases isn't hard to guess. Specifically, the major oil companies are now producing unprecedented profits as the combination of high inflation and oil-supply shortages have boosted oil and gasoline prices since early 2021.
Adding to that, liquefied natural gas (LNG) prices have also surged this year due to Russia's gas being taken out of the market. Chevron has invested heavily in LNG over the past decade and thus is ideally positioned to benefit from the Europeans' efforts to find replacements for Russian natural gas.
Berkshire owns more than 169 million shares of Chevron, which gives it an 8.8% stake in the company. At today's price, CVX stock is still selling for less than ten times its forward earnings while offering a 3.1% dividend yield.
Diageo (DEO)
Diageo (NYSE:DEO) is one of the world's largest liquor companies. The company seems like a classic Berkshire name in the spirit of Coca-Cola (NYSE:KO). Diageo makes a wide range of alcoholic beverages, including Smirnoff, Johnnie Walker, and Guinness beer. The company's business is strong and rarely fluctuates despite changing economic conditions. That's because alcohol consumption does not drop much, even during recessions.
Berkshire Hathaway owns DEO shares, though it is one of Buffett's more modest positions. As of Sept. 30, Berkshire owned 227,500 shares of Diageo. Berkshire hasn't yet invested as much in Diageo as it did in Coca-Cola.
However, if there were a time for Buffett to increase his investment in DEO, it could be now. The value of the British pound has slumped in 2022, due to several factors , including the UK's unpopular government, the country's high energy prices and the uncertainty facing its economy.
Because Diageo is based in Britain, its valuation has declined because of the problems of the UK. That could be an opportunity for both Buffett and other astute, international investors.
Charter Communications (CHTR)
Charter Communications (NASDAQ:CHTR) is a cable company. For many years, cable in general and Charter in particular were viewed as "can't lose" investments. CHTR stock, for example, rose from $70 in 2012 to a peak of more than $800 in 2021. Now, however, the shares are down more than 50% from their peak.
Its business model is incredibly attractive. Charter acquires and invests in various local cable companies, while its network in the U.S.  keeps expanding. Its customers remain loyal because they  place a high amount of value on their TV and internet connections.
Moreover, Charter has a steady revenue stream and can raise its prices fairly frequently. Given this stability, Charter borrowed a great deal of money in an effort to accelerate its growth. This strategy worked flawlessly, at least until 2021.
Now, however, CHTR has experienced some challenges. Specifically, the competition that it's facing in the telecom-and-internet service sector is rising , making it harder for CHTR to maintain its high prices.
Moreover, consumers are less interested in cable TV because  of the multitude of streaming options they have now. And rising interest rates will greatly raise the interest costs of debt-laden companies like Charter.
That said, investors might be overreacting to Charter's issues. After all, it is still a well-run utility that benefits from its large size and its shrewd management team and strategies.
Berkshire Hathaway now holds a 2.5% stake in Charter and stands to benefit when the current doldrums. of the cable industry end.
Activision Blizzard (ATVI)
Activision Blizzard (NASDAQ:ATVI) is a gaming company known for titles such as Call of Duty and World of Warcraft.  The firm's earnings have increased in recent years thanks to its improved monetization tactics, along with the success of its mobile games.
Video games might not seem like a business that would interest Buffett. However, ATVI stock is in a special situation. That's because Microsoft (NASDAQ:MSFT) has offered to buy the video-game maker for $95 per share of cash. The acquisition would enable MSFT to utilize Activision's intellectual property to enhance the games created by MSFT's Xbox business.
Not surprisingly, the Federal Trade Commission (FTC) is putting this deal under close scrutiny thanks to the reduced competition it would create in the video-game space. As a result, ATVI is now trading below $75 per share.
Investors can either earn over $20 per share if Microsoft closes the deal as anticipated. Alternatively, investors can end up owning Activision at a price not much more than it was trading for at the start of the year. That's a win-win scenario.
Moody's (MCO)
Moody's (NYSE:MCO) is one of the best Warren Buffet stocks to buy because of its competitive advantage and the high barriers to compete with it.
There are only three primary players in the credit-rating space. When only three entities exist in a market, the players in it will face limited pricing pressure.
Further, Moody's service is indispensable. After all, it's virtually impossible for entities to issue many types of bonds if there are no credit ratings on them.
That's because many exchange-traded funds (ETFs), pensions, and other institutional entities are prohibited by their mandates from investing in bonds unless the bonds obtain a good rating.
The credit ratings agencies got bad reputations due to the 2008 financial crisis. Investors should not worry about that at this point. Although the ratings agencies sometimes miss the mark, their ratings are much better than nothing, and institutions are willing to keep paying up for their services.
MCO stock tends to always be expensive. That's not surprising, given MCO's favorable characteristics which have attracted Buffett and other famous investors. That said, the shares are down more than 20% in 2022, offering investors a better entry point than usual.
Visa (V)
Visa (NYSE:V) is one of the world's large credit card networks. Buffett was probably drawn to Visa stock for much the same reason as Moody's. Specifically, there are only a few major types of credit cards accepted around the world.
So credit and debit card issuers have limited alternatives. That's particularly true when you consider how many of the digital-payments options still end up using a bank-linked card number to facilitate online transactions.
As long as Visa's core business continues to strengthen and no new competition can emerge in its sector, V stock should continue to deliver outsized returns over the long term. With the war on cash continuing, particularly in emerging markets, Visa's market share should climb for many years to come.
Now is a fine time to buy Visa, a classic Buffett stock, as its shares have been essentially flat over the past three years because its earnings growth slowed during the pandemic  That issue will eventually fade, and Visa should advance toward its highs.
Verisign (VRSN)
Berkshire Hathaway has owned Verisign (NASDAQ:VRSN) stock since 2013. Despite Buffett's well-known skepticism towards technology, his firm has had no qualms about owning Verisign's shares for the past nine years. And Berkshire has a sizeable, 12% stake in the tech firm, which "provides domain name registry services and internet infrastructure."
What makes Verisign a classic Buffett stock? If you guessed that there are big barriers to competing with it, you would be correct. Verisign operates the internet's domain name system (DNS). Simply put, that is essentially the giant address book which allows internet browsers to know how to locate individual websites. Critics have panned VRSN as a government-backed monopoly, but they have been able to do little to disrupt the company.
Versign operates the pivotal .com and .net addresses and controls various other internet registry functions. The company has now been in the DNS business for more than 25 years, and its contracts allow it to raise its prices nearly 10% annually.
Verisign's protection against inflation and the vital nature of its services make it a prototypical Buffett stock.
On the date of publication, Ian Bezek held long positions in BRK-B, V, and DEO stocks. The opinions expressed in this article are those of the writer, subject to the InvestorPlace.com Publishing Guidelines.