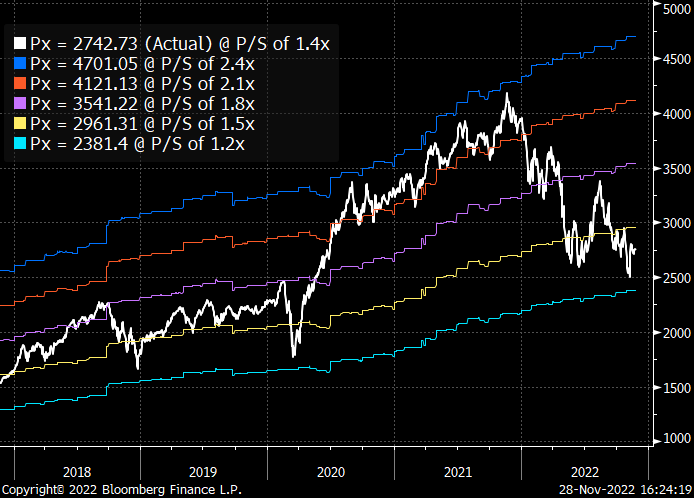 It was supposed to be an awful Black Friday/Cyber Monday weekend for retailers – but the exact opposite has happened. And that means retail stocks could surge over the next 30 days!
No one was supposed to splurge this holiday season. Prices are sky-high. Stocks are in the dump. All those pandemic savings have been wiped out. Layoffs are starting. Consumer confidence is plunging. 
Considering the forces at play, the data that analysts were given suggested this was to be an awful holiday shopping season. 
But the data – or more importantly, how we interpret the data – isn't always correct. 
Black Friday 2022 was actually a huge hit – and that means it's time to go buy some retail stocks for a massive December rally. 
Black Friday 2022 Was a Surprise Success
According to Mastercard (MA), total retail sales on Black Friday rose a surprising 12% year-over-year (excluding automobile purchases). 
That's a pretty big number. Sure, inflation is running at 8%. But that still means real spending was up 4% year-over-year. That's an impressive mark for a consumer that has seen their investment portfolios and purchasing power get crushed this year.
Typically, as goes the Black Friday/Cyber Monday weekend, so goes the rest of the holiday shopping season. Therefore, the surprise success on Black Friday 2022 strongly implies that we're about to get a surprisingly strong holiday shopping season over the next few weeks. 
Retail stocks aren't priced for this surprising strength, and that's where the best investment idea for December originates. 
Retail Stocks Could Pop
Since everyone thought the 2022 holiday shopping season would be a dud, no one bought retail stocks going into the all-important holiday season. 
As of two weeks ago, retail stocks were trading at just ~1X trailing sales. That put them about two standard deviations below their five-year-average sales multiple. They were on sale!
The discount made sense in the context of an ugly holiday shopping season. But now we're seeing signs that this shopping season will be strong. The massive discount in retail stock valuation no longer makes any sense. 
Over the next month, as more data points to a continued strong 2022 holiday shopping season, depressed retail stocks will bounce significantly higher. 
Online Retail Stocks Look Especially Tasty
We're particularly bullish on online retail stocks this December. 
Mastercard data shows that online retail sales rose 14% year-over-year on Black Friday (better than the 12% posted for in-store sales). And that number will likely be even bigger and better for Cyber Monday. Plus, we think an unusually bad flu season and high gas prices will keep consumers at home this year more than last year. 
The result? A holiday online retail sales boom. 
Plus, from a technical perspective, e-commerce stocks look like they want to run in 2023. They've plunged to a multi-year support line that held in both the 2018 and 2020 bear markets. And that support is holding again in the 2022 bear market. 
Back in 2018 and 2020, after testing this support line, e-commerce stocks surged higher over the next 12 months.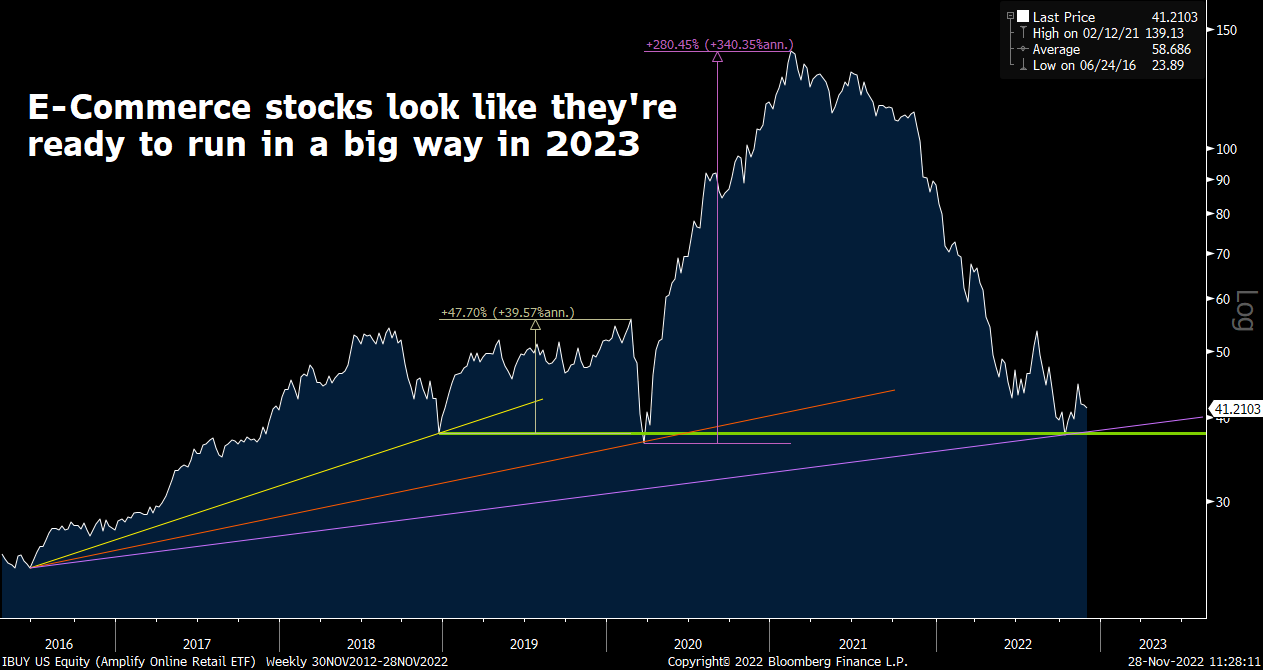 We think history will repeat, and e-commerce stocks will surge higher in 2023.
The Final Word
Nearly $1 trillion will be spent on holiday gifts over the next six weeks. That's a lot of money. As all of that money gets spent, retail stocks will ride higher in December. 
'Tis the season to be buying retail stocks – especially e-commerce stocks. 
We earnestly believe a handful of online retail stocks will soar by more than 50% before the year is out. 
But they won't be alone. 
Our fundamental and technical analysis also suggests the entire stock market is due for a massive rally in December. 
Pounce on the best stocks to buy for this big incoming rally.
On the date of publication, Luke Lango did not have (either directly or indirectly) any positions in the securities mentioned in this article.