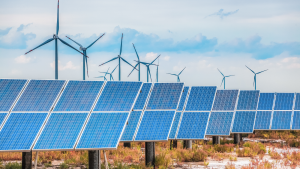 With global leaders demanding lower emissions, some of the hottest investment opportunities can be found in renewable energy growth stocks. In fact, it's a no-brainer at this point. The U.S. wants to cut emissions by up to 52%. The European Union says it aims to cut emissions by up to 55%. China says it will stop releasing CO2 in the next 40 years. To help, President Joe Biden signed the Inflation Reduction Act into law, which included $370 billion worth of federal investment into renewable energy over the next decade.
Also, according to the International Energy Agency, more than a third of the world's electricity will come from renewables by 2025 adding "renewable energy sources such as solar and wind power, together with nuclear, will on average meet more than 90% of the increase in global demand by 2025."
That being said, some of the hottest renewable energy growth stocks to consider include:
ALPS Clean Energy ETF (ACES)
For me, exchange-traded funds (ETF) are always essential. Not only do they allow you to diversify, but they also allow you to do so at a low cost. With an expense ratio of 0.55%, the ALPS Clean Energy ETF (NYSEARCA:ACES) currently trades at $43.90 and a 12-month yield of 1.02%. It also attempts to mirror its underlying index, the CIBC Atlas Clean Energy Index.
Some of its top holdings include First Solar (NASDAQ:FSLR), Brookfield Renewable (NYSE:BEP), Tesla (NASDAQ:TSLA), Enphase Energy (NASDAQ:ENPH), Albemarle (NYSE:ALB), Lucid Group (NASDAQ:LCID), and Plug Power (NASDAQ:PLUG) to name a few. With ACES current price in the $40-$50 range, I'd like to see the stock closer to $70 in the near term.
NextEra Energy (NEE)
Just last year, NextEra Energy (NYSE:NEE) announced Real Zero, committing the company to eliminate emissions from its operations no later than 2045. It also created the Zero Carbon Blueprint, which has plans to increase renewable energy deployment and help lead a $4 trillion effort to decarbonize the U.S. economy. NEE also carries a yield of about 2.5%, with plans to increase its dividend by about 10% a year through 2024.
Better, the company is still growing nicely. It released its 2022 earnings report, which continued to show the company's strong double-digit growth across several key metrics. And it had another solid year in terms of development, signing 8,000 megawatts of new projects. NEE last traded at $75.44 after finding strong support dating back to early 2022. I'd like to see it challenge $85 again shortly.
Brookfield Renewable (BEP)
With a yield of 4.56%, Brookfield Renewable (NYSE:BEP) has been operating a robust portfolio of renewable energy assets with stable cash flows. At the moment, it has more than $77 billion in assets under management and an operational capacity of about 25 gigawatts. And it has projects worth about 110 GW under development.
Even earnings growth is impressive with BEP. The company saw more than $1 billion, or $1.56 per share, of funds from operations last year, about 8% higher than in 2021. The Company claimed in a press release that it also nearly doubled its pipeline from 62,000 MW to more than 110. It also commissioned about 3,500 MW of capacity, including the completion of its 850 MW Shepherds Flat wind repowering projects. BEP last traded at $29.77. From here, I'd like to see the BEP stock refill its bearish gap of around $37.50 a share. With a 4.65% yield, we can get paid to wait for the refill.
On the date of publication, Ian Cooper did not have (either directly or indirectly) any positions in the securities mentioned. The opinions expressed in this article are those of the writer, subject to the InvestorPlace.com Publishing Guidelines.