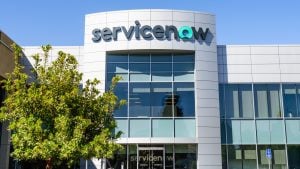 Greg Becker, the head of Silicon Valley Bank, sold nearly $30 million in stock in the two years leading up to the regional bank's collapse. As a result, CEOs selling stock are again back in the headlines.
It's not so much that investors are against CEOs selling stock. After all, we all have financial obligations to meet. However, insider sales tend to irk people when they happen immediately preceding an adverse event, as they did with Becker and SVB. 
Generally speaking, though, shareholders want to see CEOs and other insiders buying stock, not selling. CEOs selling stock in large amounts could signal trouble is afoot or that they believe shares are overvalued. Or it could mean nothing. 
But for those who are interested in CEOs selling stock, the following three companies stand out.
| | | |
| --- | --- | --- |
| NOW | ServiceNow | $464.72 |
| NVDA | Nvidia | $277.77 |
| AVGO | Broadcom | $641.54 |
ServiceNow (NOW)
ServiceNow (NYSE:NOW) CEO Bill McDermott sold nearly 54,000 shares of his company's stock, or $25 million worth, on Feb. 1, at prices between $455 and $461. That's some stock sale. 
The next day, shares of the cloud-based software company topped out near $495. They fell as much as 18% by mid-March, bottoming around $405. The stock then rebounded off its lows and ended the first quarter of 2023 up about 20%, although shares still sit 6% below their February high. 
The company said McDermott needed the cash to buy property and that he remained very bullish on NOW stock.
A ServiceNow spokesperson told MarketWatch: "ServiceNow stock is the majority of Bill's compensation, and this is his first stock sale in more than two years. Bill retains a large equity stake in the company; in fact, as his equity awards continue to vest over the next 12 months, he will more than replenish the amount he just sold."
In 2021, McDermott received total compensation of $165.8 million. Of this, $139 million was for option awards that vest only after achieving performance targets over five years. Yet, according to As You Sow, McDermott was the sixth most overpaid CEO in 2021.
Nvidia (NVDA)
Nvidia (NASDAQ:NVDA) CEO Jensen Huang is one of my favorite CEOs in America. What he's done for the technology sector since co-founding the company in 1993 is unbelievable.  
He's also made shareholders a lot of money, especially those who bought in early. NVDA stock went public in 1999 at $12 a share. Today, it trades for nearly $280 a share, and that's after its 2021 4-for-1 stock split.
In early January, Barron's reported that Huang, who routinely sells shares of Nvidia stock on the open market, stopped doing so in March 2022 as the stock continued to slip. At the time, the chipmaker was struggling with supply issues caused by Russia's invasion of Ukraine.
Huang still sold $202 million of stock in the first two months of 2022. Of course, it's easier to do that when your stock has an average daily volume of over 50 million shares. There's yet to be any selling in 2023. 
In case you're wondering, Huang received $23.7 million in total compensation in fiscal 2022 (January year-end). Huang's stock-based compensation accounted for 79% of his total pay package in 2022.
In this case, the fact that Huang stopped selling is the same as making a big buy on the open market. That's capital allocation done right. 
Broadcom (AVGO)
An institutional investor sold shares of Broadcom (NASDAQ:AVGO) recently after CEO Hock Tan sold 30,000 shares on March 16 at $626.04 apiece. Pacifica Partners unloaded nearly 91% of its holding in the semiconductor company. 
As I said, not all stock sales are the same. Sometimes, a person needs cash for a significant financial obligation. In the case of Broadcom's CEO, it could simply be an opportunity to take some money off the table given that shares have recovered nicely since hitting a 52-week low of $415.07 in October. Since then, AVGO stock is up 55%. Interestingly, Tan made a charitable gift of 16,000 shares on the same day.
As of Feb. 6, Tan owned 244,514 shares of Broadcom stock. This means the sale of 30,000 shares was about 12% of his holdings. That's not an insignificant amount. 
In fiscal 2022 (January year-end), Tan received total compensation of $60.6 million. His share-based compensation was 89% of his total pay package. It's not quite as outrageous as McDermott's 2022 pay, but it's up there. 
On the date of publication, Will Ashworth did not have (either directly or indirectly) any positions in the securities mentioned in this article. The opinions expressed in this article are those of the writer, subject to the InvestorPlace.com Publishing Guidelines.