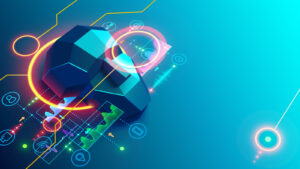 For much of 2023, the AI boom has sent chip stocks to dizzying highs. It seemed like not a day went by when Nvidia (NASDAQ:NVDA) wasn't reaching another all-time high. Even with a recent pullback, Nvidia's stock price has increased by over 200% year to date. But some investors may balk at buying in now that its price-to-earnings ratio has soared past 200.
But if you missed out on the Nvidia action, fear not: there are still undervalued AI stocks to buy. Not everyone can soar quite so fast, but many chip companies are making the necessary investments to challenge or even surpass Nvidia's dominance. And while Nvidia doesn't fabricate its own chips, the companies that do are receiving numerous subsidies to help them along the way. As the AI boom continues to increase demand for these chips, the companies building them may soon skyrocket as well, taking advantage of their new production facilities.
Because AI isn't just a passing fad. AI has the potential to transform every industry in the world. And with that, the undervalued AI stocks of today could become the generational wealth of tomorrow. So with an eye toward the future and a nose for bargains, here are three of the best undervalued AI chip stocks to buy
Intel (INTC)
Intel (NASDAQ:INTC) stands to capitalize on the AI boom thanks in part to substantial government subsidies pouring in from various nations. From Germany to America to Ohio, billions of dollars are rolling in to help Intel build chip fabs all over the world. These investments make Intel a robust AI chip contender going forward.
Intel has sometimes been seen as a laggard in chip technology. But it is poised for a comeback and is exploring the possibility of manufacturing Nvidia's chips, further expanding its reach in the AI chip market. With Nvidia being the biggest player in the AI boom, this could be very big news for Intel.
Intel both designs and manufactures chips, and it is making the chips that can power every facet of the AI boom. From graphics processors to data centers, from storage chips to everything in between, Intel is uniquely positioned to meet every requirement of the AI industry. And that could make it the biggest beneficiary among all AI stocks.
On a trailing 12-month view, investors may still be suspicious that Intel is an undervalued AI stock. Its PE is still negative, and its Q2 2023 earnings report shows revenue decreasing year on year. Intel only achieved net income instead of net loss due to benefits from tax, its operating income was negative.
But with a forward-looking view, Intel is still an AI stock to buy as it is likely to be the biggest beneficiary from Western on-shoring. Chip fabs are capital intensive, but Intel's billions of subsidies will allow them to build more fabs in more places. And by being able to provide a chip for every occasion, Intel's position in the AI boom is all but assured.
Super Micro Computer (SMCI)
Stock for Super Micro Computer (NASDAQ:SMCI) has already been a big winner in the AI boom. Super Micro designs chips for data centers and GPUs that are powering the AI boom. And as AI companies will need copious amounts of data and GPUs both, Super Micro's chips have a vital role in enabling these computational requirements.
Super Micro's stock has had a recent price drop on disappointing revenue forecasts. However, it's trading at just a 21 price-to-earnings ratio. That's lower than the S&P as a whole and far less than many of the chip designers that it competes with. This could point to Super Micro as a bargain of an undervalued AI chip stock, and one of the best to buy.
Because Super Micro doesn't directly fabricate its chips, it designs them. This lets it adjust rapidly to an evolving chip landscape without the need for investing in fabs. This is the same strategy taken by Nvidia, and it has paid off with huge gains
Super Micro's Q3 2023 earnings report shows that net income has increased year on year from $77 million to $86 million. That benefit has come in part from cost-saving measures, net sales decreased but the cost of sales decreased by more. As they did give a disappointing revenue forecast, this decreasing revenue does show problems that need to be addressed. But their recent meteoric rise in price has shown that investors are confident in them. And as the AI boom continues, Super Micro still stands as one of the most undervalued AI stocks you can buy.
Taiwan Semiconductor (TSM)
Taiwan Semiconductor (NYSE:TSM) currently stands as the titan of chip manufacturing. They are the company currently building the latest Nvidia graphics cards. They are also the world's largest chip manufacturer overall, and a leader in chip technology. And they occupy a crucial spot in the AI supply chain, making them perhaps the most undervalued AI chip stock on the market.
Being the world's largest chip manufacturer, Taiwan Semiconductor's influence extends across every aspect of the tech industry. And AI is no exception. Despite this, their price-to-earnings ratio is relatively low compared to the S&P average and others in the chip industry. This could reflect concerns about geopolitical risk due to the concentration of its fabrication facilities in Taiwan. But for investors confident that no wars will break out soon in Taiwan, now is the perfect time to be greedy while others are fearful.
Additionally, Taiwan Semiconductor is strategically addressing geopolitical concerns by investing significantly in fabs both in the United States and Europe. Government subsidies are assisting this expansion, fostering a global footprint and mitigating potential risks. This makes it one of those AI chip stocks to buy.
Taiwan Semiconductor's dominance in the chips space cannot be understated. They produce 60% of the world's chips, and by some calculations produce 90% of the advanced chips needed in modern AIs. The AI boom will need all the chips it can get, and Taiwan Semiconductor will be getting the lion's share of the fabrication money if this trend continues. Even though they're the biggest by far, they still stand as one of the most undervalued AI chip stocks to buy today.
On the date of publication, John Blankenhorn held LONG positions in INTC and TSM. The opinions expressed in this article are those of the writer, subject to the InvestorPlace.com Publishing Guidelines.