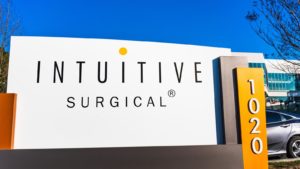 For investors seeking opportunities, undervalued robotics stocks offer potential for significant gains in a rebounding high-growth sector. Depressed valuations have been driven by tech sell-offs due to rising rates and macro uncertainties. This presents a chance to invest in innovative robotics companies at appealing prices.
In the vast tech sector, robotics firms play a pivotal role as automation grows. AI's progress highlights our evolving tasks. Humans and robots work in symbiosis, making certain duties indispensable. For future-oriented investors, now may be a good time to consider these three robotics stocks.
Intuitive Surgical (ISRG)
Intuitive Surgical (NASDAQ:ISRG) leads the robotics-assisted surgery market with its Da Vinci system in 8,000+ global hospitals. The company has conducted 13 million surgeries using Da Vinci by June 2023. Q2 2023 showed a 15% revenue rise year over year (YoY) and a 38% EPS increase. Growing demand for robotics-assisted surgery drives core segment growth.
ISRG exceeded Q2 2023 earnings estimates, but concerns about weight loss drugs impacting bariatric procedures caused a stock drop. Despite this, strong core product growth makes it a potential buying opportunity before a likely rebound.
Analysts widely consider ISRG a strong buy, with only 2 out of 14 choosing hold. The target price averages $377.14, suggesting 16% upside, while high-side sees 23% growth. ISRG trades at 59-times forward earnings and 17.4-times trailing revenue. That's certainly not cheap, but I think it's offset by a rather attractive debt-free balance sheet.
iRobot (IRBT)
iRobot (NASDAQ:IRBT), a pioneer in consumer robotics with Roomba vacuums, saw shares drop 37% due to growth concerns and competition.
However, now trading at 1-times sales (compared to 4-times), negativity around this name seems excessive. Notably, iRobot continues to expand into other growth areas, such as lawn care, and invests in its AI capabilities to drive further autonomy in its product lines. The company's IP portfolio is strong, and iRobot remains a leader in this regard. 
Wall Street predicts a 19.7% revenue decline this year but a return to strong growth afterwards. This seems factored in, and I anticipate sales to bounce back with new products. With its current low multiples, iRobot offers an appealing opportunity. The stock could potentially double, providing significant returns for long-term investors.
IRBT stock surged despite earlier hurdles, indicating renewed prospects for the company. The deal premium had been lost due to regulatory scrutiny, but with the U.K.'s approval, broader acceptance is more likely. However, FTC concerns persist as Chair Lina Khan aims to regulate Amazon, and past reports hinted at FTC opposition to the iRobot deal.
Regardless of the events that transpire, I think IRBT stock has one of the most favorable valuations in this space right now. For those looking to play robotics, this is perhaps the simplest way to do so.
Nvidia (NVDA)
Investors are flocking to Nvidia (NASDAQ:NVDA) stock during the ongoing AI boom in 2023. The chipmaker's remarkable performance, with over 93% gains in six months, highlights its potential among top tech stocks.
NVIDIA holds an 83.7% market share and has growth drivers, including the GH200 AI chip for large models like ChatGPT. This positions NVDA for profit as the AI market is projected to grow from $454.12B in 2022 to $2,575.6B in 2032 at a 19% CAGR.
Of course, robotics and other high-growth areas of the market that rely on these top-performance chips will only accelerate Nvidia's growth. While most in the market are focused on AI-related demand drivers, I think robotics is one area that's often overlooked.
Thus, for those looking for another reason to get bulled up on Nvidia, here it is.
On the date of publication, Chris MacDonald did not have (either directly or indirectly) any positions in the securities mentioned in this article. The opinions expressed in this article are those of the writer, subject to the InvestorPlace.com Publishing Guidelines.