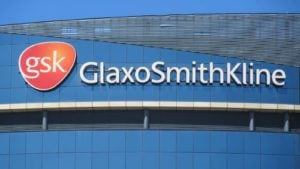 Stocks are rallying once again in 2023. The growth-oriented index is leading the way higher with a 36% gain or more than twice the return of the S&P 500. It's also nearly 10 times better than the Dow Jones Industrial Average.
No one knows when the rug will be pulled again. However, history shows us is there is no better vehicle than growth stocks, as every bear market is followed by a bull market.
Below are three such stocks to buy for the next leg up in the latest bull market run.
GSK (GSK)
Pharmaceutical company GlaxoSmithKline adopted the trendier, all-initial moniker GSK (NYSE:GSK). That hasn't helped its stock, however. Shares are down 2% so far this year and flat over the last 12 months as it works through tough comparisons to pandemic-era sales.
It also needs to deal with lawsuits for its heartburn treatment Zantac. GSK pulled Zantac from the market for fear it caused cancer, but it began settling cases in June. That should lift the cloud of uncertainty over its liability.
The stock is now trending cheap. It trades at 10 times trailing earnings and nine times next year's estimates. It also goes for less than twice its sales, which is amongst the lowest valuation in the industry.
Yet GSK's revenue and profits are growing, up 4% and 11%, in Q2. Its vaccine business is surging. With sales up 18%, the company expects that rate to continue for the remaining year. Shingles vaccines, in particular, were in demand, up 20% from last year. First half sales for the drug were $1.7 billion, which should allow it to realize $3 billion in full-year sales. Also, GSK gained approval for a new respiratory syncytial virus (RSV) vaccine. 
With a solid business, a low valuation, and the clearing away of potential roadblocks, GSK is a growth stock to buy.
Ubisoft Entertainment (UBSFY)
In a bid to get its $69 billion acquisition of Activision Blizzard (NASDAQ:ATVI) approved by regulators, Microsoft (NASDAQ:MSFT) just agreed to sell the video game company's cloud gaming streaming rights to Ubisoft Entertainment (OTCMKTS:UBSFY). The restructure includes the rights "for all current and new Activision Blizzard PC and console games released over the next 15 years".
Ubisoft is already an established game publisher. It now has possession of some of the greatest titles in video game history, such as Call of Duty. Players will have access to the titles through a single subscription fee.
The U.K.'s competition regulator initially blocked Microsoft's acquisition, citing concerns over its dominance in the streaming market if it acquired Activision.
Ubisoft is one of the most undervalued stocks in the video game market. It trades at less than two times sales compared to eight times for Activision, and four times for both TakeTwo Interactive (NASDAQ:TTWO) and Electronic Arts (NASDAQ:EA).
Assuming regulators approve the deal now, Ubisoft is a top stock to buy for the coming bull market.
Match Group (MTCH)
Investors should fall in love with online dating platform Match Group (NASDAQ:MTCH). The owner of Tinder, Match, and Hinge is in the midst of a turnaround. Second quarter earnings suggest the strategy is paying off already
Tinder, its largest, best-known product, returned to growth in the period. Revenue increased 6% versus a near flatline a year ago. Hinge revenue rocketed 35% higher. Match is also seeing strong growth in Asia with its Azar platform up 24%.
Combined, they helped operating income grow 26% year over year and generated $292 million in free cash flow. New pricing strategies and cost controls are working, though we need to see more than a single quarter, of course.
It's important to know that Match does carry a lot of debt, some $3.8 billion at June's end. Fortunately, the maturity dates are well into the future. That should give it sufficient time to buy back the debt if necessary or exchange it where appropriate for lower rates.
Match Group may be a riskier bet than the others, but with the most popular names in online dating, it is a stock to buy now.
On the date of publication, Rich Duprey did not hold (either directly or indirectly) any positions in the securities mentioned in this article. The opinions expressed in this article are those of the writer, subject to the InvestorPlace.com Publishing Guidelines.