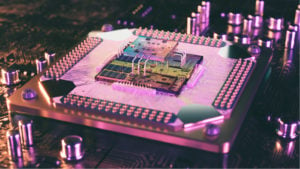 Generative artificial intelligence has garnered much attention in 2023 for its novel capabilities in compiling information and providing it in a digestible manner. However, a new technological revolution may be in our midst. According to acclaimed physicist Michio Kaku, quantum computing has the potential to leapfrog generative AI since quantum computers will better approximate how human brains function. Kaku famously quipped in an interview that today's chatbots are no more than "glorified tape recorders" that just "[take] snippets of what's on the web, created by a human, splices them together, and passes it off as if it created these things."
While I would not champion being indifferent to the capabilities of language-based artificial intelligence, I do contend that quantum computing happens to be one of the most promising technologies of the 21st century. Quantum computers appear so promising that the rally in AI-related public equities has also in one way or another occurred to pure-play quantum computing businesses.
In time, quantum computers will be able to solve complex problems that normally slow down classical computers, such as optimization, cryptography, machine learning, and simulation. To capitalize on this long-term trend, equity investors need not only to invest in the most capable businesses but also exercise patience and buy-in at attractive entry points.
Below is a list of promising quantum computing companies that investors should only be considering in August.
D-Wave Quantum (QBTS)
More than a week ago, one of the world's oldest and most established quantum computing companies, D-Wave Quantum (NYSE:QBTS), reported second-quarter earnings and unfortunately missed Wall Street's estimates. In essence, both revenue and earnings per share came in lower than expected, inciting a sharp sell-off in D-Wave shares that left the stock price down more than 12%. In spite of missing estimates, D-Wave did make some real strides toward further commercialization of its core product. Revenue bookings were up 146% year-over-year, which speaks to enterprises recognizing the value of D-Wave quantum annealing technology, which leverages a number of computing techniques to find the optimal solution for a given problem.
Given the nascent nature of quantum computing, D-Wave Quantum has ample opportunity to further market its cloud platform, Leap, which leverages D-Wave's quantum annealers and employs a layer of useful software tools over them.
Last year, D-Wave generated $7.2 million in revenue last year, increasing 14% year-over-year (YoY). For 2023, the company expects revenues to come in between $11 million and $13 million, representing between 52.8% and 80.5% YoY revenue growth. The stock is down nearly 40% for the month, which could provide an attractive entry point for potential investors.
Taiwan Semiconductor Manufacturing (TSM)
Taiwan Semiconductor Manufacturing Company (NYSE:TSM), or TSMC, happens to be the world's largest contract chipmaker, producing chips for many leading technology companies. The company's importance to the modern digital age as we know it should not go understated. Given, TSMC currently boasts the most advanced semiconductor manufacturing technology in the world. Despite being a manufacturer of semiconductor chips, as quantum computing becomes less novel and more mainstream and commercialized, TSMC will be able to leverage both its manufacturing potential and expertise to get ahead of competitors.
Of course, TSMC, a company well ahead of its competitors in many aspects, has already dabbled into quantum computing research and development. In particular, the manufacturer has collaborated with several academic institutions and research organizations to explore quantum computing applications and technologies. In July, TSMC announced its first-ever research and development (R&D)-dedicated center in Hsinchu, Taiwan. TSMC Chairman Mark Liu expects the center to contribute to quantum computing processors in the future.
Ultimately, TSMC is a reliable stock for investors who want exposure to the quantum computing industry without sacrificing quality or growth. The stock has recently hit headwinds after TSMC announced its first quarterly decline in 4 years and cut guidance due to a slump in demand for consumer electronics. However, this trend is temporary, and investors should invest in TSMC for the long term.
Advanced Micro Devices (AMD)
Advanced Micro Devices (NASDAQ:AMD) is another semiconductor entry on our list. This leading chipmaker competes with both Intel (NASDAQ:INTC) and Nvidia (NASDAQ:NVDA) in the markets for central processing units (CPUs) and graphics processing units (GPUs), respectively. Though AMD's recent inroads into generative AI get most of the press these days, what is less well-known is the semiconductor giant has already made developments into quantum computing. In particular, AMD assisted Riverlane, a quantum computing firm, in amplifying its quantum computing software techniques by providing the necessary processing hardware.
In mid-June, AMD announced the MI300x GPU which will compete directly with Nvidia's A100 and H100 chips used for language learning models (LLMs). After a record-beating earnings report, CEO Lisa Su said the company was seeing strong demand for its new AI chips.  As AMD continues to effectively pivot to chips for language processing, it is not unlikely the semiconductor behemoth will be able to effectively capture market share in the quantum computing space.
On the date of publication, Tyrik Torres did not have (either directly or indirectly) any positions in the securities mentioned in this article. The opinions expressed in this article are those of the writer, subject to the InvestorPlace.com Publishing Guidelines.