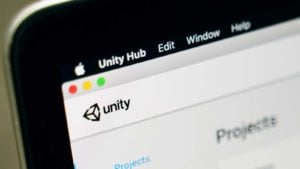 Virtual reality (VR) is an emerging tech that investors shouldn't overlook, but the industry stands beaten down from past highs. Still, the virtual reality market is valued at $23 billion, with many expecting the sector to climb up to $160 billion by 2027.
Virtual reality has long been the stuff of science fiction, tantalizing us with visions of immersive alternate universes and experiences that transcend our everyday reality. Today, that futuristic vision is increasingly becoming a tangible investment opportunity. As technology continues its relentless march forward, virtual reality is shifting from a novelty to a necessity in multiple sectors, from gaming and entertainment to education and healthcare.
For investors with a keen eye on the future, this transformation signals enormous potential. These three emerging VR stocks are pushing the boundaries of possibilities and positioning themselves as the next big players in this digital frontier.
Unity Software (U)
Video game developer Unity Software (NYSE:U) is a key player in the emerging VR market. Critically, Unity operates as an entry point for individuals and enterprises to develop virtual reality experiences. 
Hedge fund White Brook Capital summed up Unity's unique position in virtual reality markets succinctly, but the core tenets bear repeating. Unity is positioned to take advantage of VR and augmented reality (AR) emerging as greater players in tomorrow's entertainment spaces. Much of the virtual reality-centered bust came from a "too soon, too fast" mentality. Bottom line is that the market and underpinning technology weren't ready to support a VR revolution. But that's likely changing soon.
Unity is uniquely positioned as the firm's tech lets users replicate physical objects in virtual reality spaces. Financially, the company's ad network represents a cash flow opportunity as advertisers flood new VR spaces. Those ad opportunities became apparent as Unity reported a 16% earnings surprise and a net profit despite marking a massive loss the previous year. 
Ultimately, Unity is one of the accessible virtual reality developers available to both enterprise and small-scale customers. Its early market penetration makes it a long-term VR play. 
Qualcomm (QCOM)
Qualcomm (NASDAQ:QCOM) is the largest virtual reality manufacturer today and likely won't cede that position to new entrants or existing competition. Critically, Qualcomm's joint venture with Samsung and Google (NASDAQ:GOOGL) cemented the company's industry-leading position.
That partnership seeks to develop a comprehensive mixed-reality platform. The joint venture benefits from Qualcomm's tech, Samsung's hardware, and Google's past investment in virtual reality tools. No definitive product has been announced. Analysts expect the outcome will likely be a series of headsets that open new VR vistas for customers. And ultimately, represent massive cash gains for Qualcomm.
At the same time, QCOM is maintaining its robust portfolio of virtual reality products, including headsets. Its emerging Snapdragon processor will let its internal product line support new WiFi tech alongside eye-tracking technology, driving innovation in VR and setting a new standard for others to follow. 
Matterport (MTTR)
Matterport (NASDAQ:MTTR) is on a losing streak, with the stock falling 40% over the past year. But it recently reversed, as the virtual reality company began climbing again in recent weeks.
Recent earnings disappointed shareholders, as the VR company reported a $56 million loss. Still, Matterport's revenue climbed 40% year over year, proving its short-term viability while the world waits for an imminent VR surge. 
Critically, Matterport struggled to adapt to changing economic conditions that previously skyrocketed the stock. To that end, the company laid off 30% of its workforce in a cost-cutting measure. While layoffs aren't ideal for those affected, the move indicates Matterport is prepared to slim down to ensure sustainability. In the words of CEO RJ Pittman, the layoffs and other measures will "sharpen our focus, speed up execution, and accelerate our path to operational cash flow profitability".
Matterport is the riskiest virtual reality stock on the list. Still, priced below $3 per share, Matterport represents a significant upside for bullish investors.
On the date of publication, Jeremy Flint held no positions in the securities mentioned. The opinions expressed in this article are those of the writer, subject to the InvestorPlace.com Publishing Guidelines.