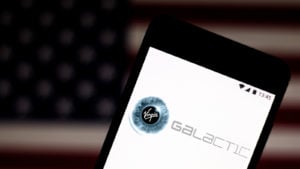 At first glance, the market jitters that began sprouting appears to have died down recently, thus making the concept of stocks to sell appear overly cautious. After all, CNBC tells us that the Dow Jones closed higher on Friday, leading to the best week since July. However, one week doesn't tell the whole story.
Against a broader view, investors have legitimate reasons to be concerned. For one thing, Americans' credit card debt exceeded the $1 trillion level, demonstrating how stretched everyone is. One bad cycle and the entire economy can start hurting. As well, major retailers have warned about the pain on the street, necessitating consideration for stocks to sell.
Finally, corporate layoffs appear to have picked up steam recently, which is a major sign that circumstances aren't moving smoothly. On that note, below are stocks to sell (regrettably).
Virgin Galactic (SPCE)
A spaceflight enterprise, Virgin Galactic (NYSE:SPCE) enjoyed much fanfare when it made its public market debut via a reverse merger with a special purpose acquisition company (SPAC). However, since the early summer of 2021, SPCE simply cratered. It's unfortunate because earlier this year, the company launched its first commercial flight. Sadly, the positive developments might not be enough, making SPCE one of the stocks to sell.
Sure, I understand the power and potential of the space economy. As I've mentioned many times before, data from McKinsey & Company notes that the broader industry could command a valuation of $1 trillion by 2030. At the same time, the arena could be getting crowded. Also, I'm not a big fan of its recent underperformance. In the trailing one month, SPCE slipped 32%.
What really bothers me is that Wall Street analysts peg SPCE a moderate sell. This assessment breaks down as three holds and three sells. Frankly, the pace of the stock's downturn suggests that the average $3.50 price target is old news.
QuantumScape (QS)
When it comes to stocks to sell, mentioning QuantumScape (NYSE:QS) hurts. That's because the company demonstrated significant potential when it made its public market debut, again via a SPAC merger. I keep mentioning this point because the actual data confirms investors need to be cautious regarding blank-check firms. Anyways, QuantumScape focused on solid-state batteries (SSBs), which could revolutionize the electric vehicle industry.
Right now, one of the main challenges of EV integration centers on the current-gen lithium battery. Basically, to recharge an EV takes too long and that's a problem given the lack of public infrastructure. To remedy this problem, QuantumScape sought to deliver a groundbreaking new battery platform that offers vast improvements over traditional batteries.
However, progress has been slow coming. Per InvestorPlace contributor Thomas Niel, even QuantumScape insiders appear to be having doubts. Plus, the company will face competition from giants like Toyota (NYSE:TM). Perhaps most damning of all, analysts peg QS as a consensus moderate sell. Moreover, their average price target sits at $6.20, implying more than 12% downside risk.
Upstart (UPST)
Some companies end up on lists focusing on stocks to sell because of poor business decisions. And others, such as Upstart (NASDAQ:UPST) face deep-seated outside headwinds that that threaten demand. Sadly, circumstances might worsen for Upstart, a financial technology (fintech) player that offers an artificial-intelligence-based lending platform. While UPST has blossomed to a 156% gain so far this year, it's also lost about 52% in the trailing month.
With such a steep value erosion, market participants must wonder about forward viability. What worries me is that Americans now carry $1 trillion in credit card debt, a new dubious record. Sure, on one hand, you can say that the exposure to plastic represents confidence in the stability of the U.S. On the other hand, it's awfully precarious if economic conditions don't hold the line.
As well, major retailers have warned recently that consumers are under much pressure. Under this framework, Upstart appears fundamentally risky. And analysts agree, pegging UPST a consensus moderate sell. Their average price target sits at $28.25, implying more than 14% downside risk.
On the date of publication, Josh Enomoto did not have (either directly or indirectly) any positions in the securities mentioned in this article. The opinions expressed in this article are those of the writer, subject to the InvestorPlace.com Publishing Guidelines.