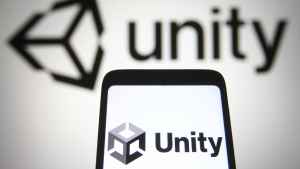 It is true that the metaverse may seem something new for this time, even in its initial stages. But like artificial intelligence (AI) and cryptocurrencies, the metaverse is here to stay. In order to make the most of this growing space, we must understand and study it as users of its technology and as investors. I think of it like investing in the internet in the 2000s. With that in mind, here are my three recommendations for the best metaverse stocks to buy.
Unity (U)
Unity Software (NYSE:U) is a leading real-time 3D (RT3D) content and experience creation company. They had a strong second quarter, beating expectations for revenue and adjusted EBITDA. Notably, their revenue reached $533 million, an impressive 80% year-over-year growth and an 11% year-over-year increase on a pro forma basis.
Despite a GAAP net loss of $193 million, they managed to achieve adjusted EBITDA of $99 million. This is a significant improvement of $136 million compared to the prior year and fully exceeded its adjusted EBITDA guidance of $50 million to $60 million. Although it was impacted by one-time restructuring payments, free cash flow for the quarter was $33 million.
All of those reasons earn Unity a spot on my list of the best metaverse stocks. Furthermore, my opinion is bolstered by the company's commitment to reshape the digital entertainment landscape. They are doing so through their new Unity Wētā Tools division, which is focused on providing widely used and trusted solutions for artists to collaborate on creating both 2D and 3D content.
These advancements, if successful, will make high-end VFX production and premium content creation more accessible to creators. Additionally, it will empower these creators to create captivating digital worlds, bring hyper-realistic characters to life, and elevate cinematic production techniques.
Unity is also expanding their reach beyond entertainment. They have introduced Unity Industry, a collection of products and services optimized for diverse industries such as manufacturing, infrastructure, energy and retail. For example, Unity Industry enables these companies to turn their 3D data into valuable digital assets, impressively reducing time to market and optimizing resources.
From human-machine interfaces to product visualization, sales configurators, smart factories, digital twins and simulation, Unity Industry enables customers to seamlessly create and collaborate in real time, delivering immersive and interactive 3D experiences across diverse platforms. It's a shoo-in for the top three best metaverse stocks worthy of consideration.
Roblox (RBLX)
Roblox (NYSE:RBLX) is a major player in the world of virtual experiences and online games. It's not just about playing, but also about creating. Providing a digital universe where millions of users come together, it offers users a space where anyone can develop their own games, adventures and activities, ultimately encouraging creativity and social interaction.
Financially, they have experienced promising growth. In the second quarter of 2023, its figures were impressive with revenues reaching $680.8 million, up 15% year-on-year, and bookings totaling $780.7 million, a year-on-year increase of 22%. Despite these gains, there was a net loss of $282.8 million. Operationally, it had 65.5 million daily active users, up 25% from the previous year. This indicates a thriving and engaged user base that spends a total of 14 billion hours on the platform.
A key metric for Roblox is the average bookings per daily active user (ABPDAU), which stood at $11.92, although it showed a slight decline of 3% from the previous year. However, the monthly average of unique payers, at 13.5 million, was up 19% year-on-year, and they spent an average of $19.32 each, showing an increase of 3%. These figures highlight their ability to effectively monetize their user base.
They recently made a significant announcement during Cannes Lions, introducing the Roblox Partner Program. This program aims to empower brand innovation and create a global self-service advertising ecosystem within the platform. It focuses on engaging diverse stakeholders, from Roblox developers to agencies, brands and third-party marketers. The program emphasizes community engagement and offers transparent pricing for immersive ads.
Several renowned partners have already joined the program, including Century Games, Dentsu (OTCMKTS:DNTUY), Dubit, Playwire, Sawhorse, The Gang Group and Vayner3. Collectively, they bring their expertise in creating immersive 3D content and innovative advertising, making it easier for newcomers to access the platform. These partners have also committed to support brands joining this new space over the next 12 months.
The resulting combination of these factors win Roblox a spot in my list of the top three metaverse stocks.
Autodesk (ADSK)
Known for their software solutions for architects, engineers, artists and designers, Autodesk (NASDAQ:ADSK) is well-positioned to play an important role in the fields on 3D design and content creation as the metaverse grows. Specifically, Autodesk provides 3D modeling, animation and rendering tools that are essential for developing virtual worlds, immersive experiences and digital content.
What sets them apart and makes them attractive as an investment in the metaverse is their participation in initiatives such as the Allice for OpenUSD (AOUSD). In collaboration with influential technology giants such as Pixar, Adobe (NASDAQ:ADBE), Apple (NASDAQ:AAPL) and NVIDIA (NASDAQ:NVDA), Autodesk contributes to the standardization and development of Pixar's Universal Scene Description (USD) technology.
OpenUSD, powered by Pixar, is a powerful 3D scene description technology known for its ability to streamline content production and capture artistic expression collaboratively. By participating in AOUSD, Autodesk is at the forefront of creating the technical foundation for the metaverse.
This move is crucial to establish a common language in the 3D ecosystem, promoting interoperability between various tools and data sources. Standardization is vital in the metaverse since different platforms and creators need to communicate and share content seamlessly.
As for their financial results, in the second quarter of the current fiscal year, they reported impressive results. Total revenue increased 9% to $1.345 billion, demonstrating the company's growth potential. Although the GAAP operating margin declined slightly, their non-GAAP operating margin remained stable at 36%, indicating efficient cost management. In addition, its earnings-per-share (EPS) showed strength with a GAAP EPS of $1.03 and a non-GAAP EPS of $1.91. Finally, the company also demonstrated strong cash flow from operating activities and free cash flow, with $135 million and $128 million, respectively.
With strong fundamentals and a formidable collaboration on the horizon, Autodesk rounds out my list of the best metaverse stocks today.
As of this writing, Gabriel Osorio-Mazzilli did not hold (either directly or indirectly) any positions in the securities mentioned in this article. The opinions expressed in this article are those of the writer, subject to the InvestorPlace.com Publishing Guidelines.