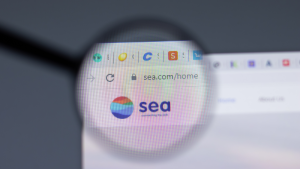 Emerging markets are a diverse and dynamic group of countries that offer investors exposure to high-growth potential and attractive valuations. However, not all emerging markets are created equal. Some may face more challenges than others in the current global environment. In this piece, I will highlight three emerging markets stocks that have strong or decent fundamentals. These stocks will benefit from the secular tailwinds their respective end-markets have to offer.
"Emerging markets" is an all-encompassing term for various developing countries and regions. These particular stocks operate in different regions and sectors, but they share some common themes. They have become leaders in their respective markets, they have innovative and scalable business models and they have proven they have strategies to be resilient in these economically uncertain times.
Sea Limited (SE)
Sea Limited (NYSE:SE) is a leading internet platform company in Southeast Asia and Taiwan. It has three core businesses: Shopee, an e-commerce platform, Garena, a gaming and digital entertainment business, and SeaMoney, a digital financial services platform. The internet giant began its business as a gaming company with FreeFire as its famous title. In 2015, after having amassed a sizable user base, the company started Shopee, which has now become its largest business unit in terms of revenues.
If you had invested in Sea after its blockbuster IPO in 2017, you would have more than doubled your initial investment by today. This is because the internet giant has largely benefitted from the rapid growth of internet penetration and digital adoption in its end-markets. However, that does not mean there are not attractive entry points to take advantage of here. Starting last year and continuing into the current, shareholders have become weary of Sea's lack of profitability and slowing growth amidst a cloudier macroeconomic environment. The company first assured shareholders by pursuing some of the largest jobs cuts in its history.
As a result, Sea managed to cut costs efficiently and even reported a surprise profit in the fourth quarter of 2022. However, after the company had another earnings miss and expressed plans to reinvigorate Shopee's growth through investment, the stock tanked nearly 30%.
I believe the market severely overreacted in this case. Sea operates in countries like Malaysia, Thailand and Vietnam, which are full of price sensitive consumers. This is especially true in times of high inflation. Thus, maintaining high sales growth in this environment remains difficult. Further, the company is eventually going to need to invest capital to increase top-line growth.
Petrobras (PBR)
Petrobras (NYSE:PBR) remains a top emerging markets performer. The stock has risen 38.9% year-to-date due to elevated energy prices and less than expected market interference from current President Luiz Inacio Lula da Silva's government. For those unaware, Petrobras is the state-run oil and natural gas behemoth of Brazil. Last year, global commodity prices skyrocketed, and elevated energy prices allowing Petrobras to generate $121 billion in revenue and $38 billion in net income.
Petrobras's large net income has translated into huge dividends for shareholders. As an example, the company doled out more than $43 billion in dividend payments in 2022. Despite an overall pullback in crude prices in 2023 from their 2022 high points, Petrobras remains profitable and undervalued. In fact, PBR's price-to-earnings ratio on a forward-12-month basis is only 3.9x forward earnings. Recent news that Saudi Arabia and Russia will both extend their crude oil production cuts, should not only keep global crude prices elevated but also help Petrobras's bottom-line, helping the company to maintain its high dividend yield of 23.9%. This easily earns its spot on our list of emerging markets stocks.
DLocal (DLO)
DLocal (NASDAQ:DLO) is a leading payments platform enabling global merchants to accept and process payments in emerging markets. The company had its humble beginning in 2016 in Uruguay with the goal to help merchants get paid for their cross-border services. DLocal has successfully expanded to 40 emerging market countries across Latin America, Asia, Africa and the Middle East. It serves more than 600 merchants including e-commerce giants such as Amazon, Spotify, Uber, Booking.com and Netflix, at the end of 2022.
In 2023, DLocal has continued to expand its presence and market share in emerging markets, leveraging its unique value proposition and network effects. After beating second quarter earnings estimates, DLocal also tapped former Mercado Libre CFO Pedro Arnt to be the company's co-CEO. Mercado Libre is one of Latin America's largest e-commerce platforms, and adding their prior CFO to the management team could help DLocal to break into new markets and acquire more merchants. Ultimately, the payments platform has a large and untapped market opportunity, as e-commerce penetration and digital payment adoption are still low in many emerging markets. Investors should expect a lot out of this company in the future as it continues to expand. This stock and the others we mentioned are all great emerging markets stocks that you should add to your portfolio.
On the date of publication, Tyrik Torres did not have (either directly or indirectly) any positions in the securities mentioned in this article. The opinions expressed in this article are those of the writer, subject to the InvestorPlace.com Publishing Guidelines.