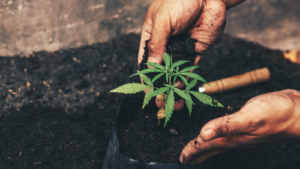 While the adult botanical industry presents high risks, regulatory momentum may bolster the case of cannabis stocks to make you rich. Specifically, a recent report from the Department of Health and Human Services (HHS) recommended that the U.S. Drug Enforcement Administration (DEA) reschedule marijuana from its present Schedule I status to Schedule III.
Moreover, the impetus of this proposal stems from a U.S. Food and Drug Administration (FDA) review of marijuana, which itself represented a request by President Joe Biden. After years of playing coy with the green sector, there may finally be real meat to the legalization narrative. Therefore, speculators should keep an eye on cannabis stocks to make you rich.
To be fair, no industry operates without risks. And undeniably, the cannabis industry has suffered many setbacks. Even with this latest news, the DEA would still have to make the controversial decision. Still, it's a major development for botanical advocacy. For the daring, these are the cannabis stocks to make you rich.
Green Thumb Industries (GTBIF)
Headquartered in Chicago, Illinois, Green Thumb Industries (OTCMKTS:GTBIF) carries a core directive to leverage the cannabis plant's potential to improve health, happiness, and comfort. According to its press release, Green Thumb features operations to serve nearly 50% of the U.S. population. Some of the states where it has a presence include California, Colorado, Connecticut, and Florida. As such, it's one of the larger multi-state operators (MSOs).
Financially, the company doesn't exactly offer a sterling print. However, compared to other potential cannabis stocks to make you rich, Green Thumb offers credibility. Most notably, its three-year revenue growth rate comes in at 57.2%, blowing past nearly 95% of its peers. Also, its book growth rate during the same period lands at 21.4%, above 81% of rivals.
While not the standard bearer of stability, Green Thumb carries an okay balance sheet, with an equity-to-asset ratio of 0.68X, above the sector median of 0.59x. Also, GTBIF trades at only 1.58X book value, lower than the median of 1.94x. Finally, analysts rate shares a strong buy with a $14.53 target, implying over 30% growth.
Trulieve Cannabis (TCNNF)
A leading integrated cannabis firm, Trulieve Cannabis (OTCMKTS:TCNNF) is perhaps best known for its strong presence in Florida. That's not a surprise given that the Sunshine State is the largest and most lucrative medical-only cannabis market in the U.S. Since the beginning of this year, TCNNF has been in the red by more than 15%. However, since Aug. 28, shares gained nearly 79%.
To be fair, while Trulieve may be one of the cannabis stocks to make you rich, it's going to require some patience. On the plus side, the company commands a three-year revenue growth rate of 45.9%. While the top line has taken a hit recently, it's possible that favorable regulatory developments could boost demand. Also, Trulieve benefited from phenomenal book growth during the past 36 months.
On the not-so-pleasant side, Trulieve carries negative net margins and a red-stained return on equity. Again, you're going to have to trust the narrative more than the print. That said, analysts rate TCNNF a strong buy with a $12.99 target, implying almost 111% upside.
Verano Holdings (VRNOF)
Aiming to shift the narrative in a positive direction regarding cannabis, Verano Holdings (OTCMKTS:VRNOF) might not be a household name among all investors. Still, it's making significant progress. According to its website, Verano grows over 160 organic, proprietary strains. As well, management ensures a local supply chain for their products, thus being an accretive member of the surrounding community.
That might go a long way in dispelling unhelpful myths about cannabis producers. Since the start of the year, VRNOF gained over 50% of its equity value. Still, that's where much of the pleasantries end. For example, over the course of the past five years, shares collapsed nearly 82%. Again, Verano could be a candidate for cannabis stocks to make you rich. However, you must have a strong conviction.
Nevertheless, it's worth examining the encouraging data. Perhaps most notably, Verano is on a solid growth trek, moving from revenue of $228.5 million in 2020 to $879.4 million last year. Lastly, analysts peg VRNOF as a unanimous strong buy with a $10.17 target, implying almost 122% upside.
On the date of publication, Josh Enomoto did not have (either directly or indirectly) any positions in the securities mentioned in this article. The opinions expressed in this article are those of the writer, subject to the InvestorPlace.com Publishing Guidelines.