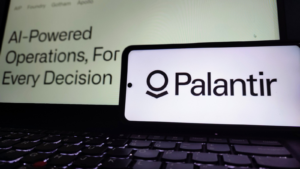 In an era of AI advancements, industry leaders have emerged in data analytics and cybersecurity. They are harnessing the power of artificial intelligence (AI) to reshape the landscape of enterprise solutions.
The article explores how these companies have transcended the boundaries of convention, propelling innovation to unprecedented heights. They can take fundamental advantage of their transformative products and strategies. Investors can capitalize on the remarkable progress of these three AI-driven juggernauts.
From the first's groundbreaking AI platform that catalyzes data integration and informed decision-making to the second's strategic pivot towards software-based offerings and its stronghold in the SASE market to the third's pioneering AI-driven cybersecurity solutions fortified by an unparalleled data advantage. These companies are not just pushing financial boundaries; they are rewriting the game.
Palantir Technologies (PLTR)
Palantir Technologies (NYSE:PLTR) has developed a suite of products, including Palantir Government Edition (PGE), Foundry, Apollo and the recently launched AI platform (AIP). These products are tailored to address the pressing needs of various sectors. They enable the ability to harness the power of data analytics, AI and large language models (LLMs).
AIP, in particular, represents a game-changing offering. It allows organizations to integrate LLMs into their existing workflows. As a result, it is transforming data into actionable insights with unprecedented speed and precision. Also, this integration enables faster decision-making and innovative problem-solving. Palantir's focus on constant innovation is highlighted by its emphasis on using AIP to supercharge enterprises, accelerating data integration, AI-enabled applications and human-agent collaborations.
Fundamentally, the company's products have revolutionized how industries operate. Healthcare facilities, for instance, use Foundry to optimize nurse schedules, leading to substantial reductions in wait times and improved patient care.
Similarly, Palantir's collaboration with Novartis (NYSE:NVS) has created an integrated data lake that provides a "fundamental advantage" for the company. PLTR's expertise in handling complex, stochastic AI models is a testament to its engineering capabilities. Its suite of tools, including AIP Assist, empowers users by enabling them to leverage AI effectively. As a result, it is translating into improved efficiency and productivity.
Finally, focusing on compounding growth, the company aims to capitalize on the momentum generated by AIP's introduction. In this context, the network effects generated by its U.S. commercial business and the increasing demand for its products bode well for sustained growth.
Palo Alto Networks (PANW)
A pivotal strength of Palo Alto Networks (NASDAQ:PANW) strategy is platformization, which simplifies customer architecture, reduces costs and offers cross-platform capabilities.
Notably, the company's next-generation security (NGS) capabilities were pivotal in major deals. For instance, a large industrial manufacturer's transaction worth $45 million (Q4 Fiscal 23) was driven by commitments to Prisma Access, Prisma Cloud, Extended Detection and Response (XDR) and Internet of Things (IoT) security. That highlights Palo Alto Networks' ability to address diverse security needs within a single, integrated platform.
Palo Alto Networks' success is attributed to its strategic investments in next-generation security solutions. Specifically, its Cortex platforms have seen substantial traction, achieving significant milestones and surpassing $1 billion in annual bookings. That underscores the platform's robust adoption by customers seeking advanced security capabilities.
Additionally, the company focuses on delivering outcomes-based value propositions, such as its XSOAR platform for security operations. It has resonated well with security organizations seeking to improve the meantime to remediation and adapt to new regulatory requirements.
Furthermore, Palo Alto Networks' strong performance extended to its cloud security offerings. Prisma Cloud, the company's cloud security platform, exceeded $500 million in annual recurring revenue (ARR) and exhibited strong growth in customer adoption of multiple modules. It reflects the platform's broad appeal for managing security across various cloud applications. Moreover, Palo Alto Networks' ability to win large deals in diverse industries showcases the effectiveness of its next-generation security capabilities.
Finally, Palo Alto Networks' strategic direction includes transitioning from hardware to software-based offerings and positioning itself as a SASE (secure access service edge) market leader. Also, industry recognition, such as its leadership position in Gartner's SASE Magic Quadrant and Forrester's Zero Trust Edge Wave, bolsters its market position and drives customer momentum.
CrowdStrike (CRWD)
By leveraging AI, CrowdStrike (NASDAQ:CRWD) has achieved industry-leading detection and rapid remediation capabilities for customers while reducing costs and increasing profit margins. A notable example is Falcon Complete, a managed offering powered by AI. That has demonstrated exceptional product margins that outpace its gross margin. Also, it highlights how CrowdStrike's investment in AI innovation translates into tangible financial benefits.
What sets CrowdStrike apart is its unique and extensive dataset. With petabytes of data and trillions of daily events collected from a global sensor fleet over a decade, CrowdStrike has established a sustainable data advantage. Interestingly, this advantage enables the company to develop better models, more efficient automation and ultimately improved outcomes. Further, this data-driven approach, combined with integrating human expertise from its OverWatch, Falcon Complete and Intel teams, allows CrowdStrike to offer unparalleled cybersecurity insights and services.
Fundamentally, as the cybersecurity landscape continues to evolve, CrowdStrike is well-positioned to navigate the challenges posed by adversarial AI. Also, the introduction of Charlotte AI represents a significant leap forward for CrowdStrike. This generative AI security analyst harnesses the company's data advantage to amplify security analysts' capabilities. Moreover, by compressing workloads, providing intelligence and offering faster response times, Charlotte AI exemplifies CrowdStrike's commitment to bridging the cybersecurity skills gap, bolstering threat response and reducing operational costs.
Furthermore, CrowdStrike's momentum is evidenced by its thriving partner ecosystem. Collaborations with industry leaders like Amazon's (NASDAQ:AMZN) AWS and strategic partnerships with MSP cloud marketplace Pax8, enable CrowdStrike to extend its reach, provide top-tier cybersecurity solutions and address the need for consolidated security stacks. Finally, the company's consistent growth in net new ARR and ability to attract large customers demonstrate its long-term value proposition.
As of this writing, Yiannis Zourmpanos held a long position in PLTR. The opinions expressed in this article are those of the writer, subject to the InvestorPlace.com Publishing Guidelines.